Juilliard trained actor Val Kilmer has had a long, bumpy road of a career in Hollywood. The oft-times difficult-to-work-with actor has seen the many highs and the many lows the life of an actor has to offer. Beset by health issues late in his career, Kilmer is finally looking to come back to Hollywood in a big way.
VAL KILMER'S PATH TO STARDOM
Wait, he can sing? YesVal Kilmer began his Hollywood career as Nick Rivers, the rock-n-roll star in the hilariously funny and underrated movie Top Secret! This was the follow-up movie by the trifecta writing and directing crew of Jim Abrahams, David Zucker, and Jerry Zucker. They'd just hit it big with their parody comedy hit Airplane!, had moved on to the TV series Police Squad! and once that ended its short run, the trio moved on to Top Secret!
Val Kilmer was cast in his first role as an Elvis Presley-type in this parody of spy/rock-n-roll films that hit on all notes. As Rivers, Kilmer performed his own singing, in fact he even released an album (Nick Rivers) that contained all the songs from the movie.
Val Kilmer's career was off and running as his next film was another funny one in Real Genius. Then his career took off as the Iceman cometh. His turn in Tom Cruise's hit Top Gun wasn't an overly large part, but it was quite a memorable one.
He turned that role into back-to-back TV movies, The Murders in the Rue Morgue and The Man Who Broke 1,000 Chains and then came another star-making turn. As Madmartigan. In Ron Howard's Willow, Val Kilmer was the selfish, thinks-only-about-himself, reluctant hero swordsman who helps Willow on his journey. Another big hit for Kilmer.
Val Kilmer turned those early hits into more early hits. In Kill Me Again, he co-starred with future wife with whom he met on the set of Willow, Joanne Whalley. He then moved on to another star-making role as Jim Morrison in The Doors. Not only did Kilmer look eerily like the late Morrison, but his singing in the movie matched Morrison too.
VAL KILMER: ACTION STAR
Those mid-80s and early '90s were big for Val Kilmer. He went from The Doors to Thunderheart to True Romance to The Real McCoy. Then he landed another one of his famous roles, this time as Doc Holliday in the western Tombstone. It was a role meant for Kilmer as he played Holliday and his sickness to a tee. He was most definitely everyone's "huckleberry".
Despite not knowing who the director was or even having an opportunity to read the script, Val Kilmer took on on the role Michael Keaton made famous as Batman. Keaton decided not to return for a third Batman movie as director Tim Burton also left for other ventures, so Val Kilmer snapped up the role of Bruce Wayne, sight unseen. He performed to mixed reviews, some loving his take on the caped crusader, others not caring much for it in comparison to Keaton.
The mixed Batman reviews did nothing to slow down Val Kilmer's career. He next jumped aboard the crime caper Heat, which starred legends Robert De Niro and Al Pacino. The movies kept rolling on for Kilmer. The Ghost and the Darkness, The Saint, Red Planet, Wonderland (as porn star John Holmes), The Missing, Mindhunters, the big movies never stopped.
Alexander, Kiss Kiss Bang Bang, Played, Moscow Zero, Val Kilmer continued to add to his vast resume. Along the way though, Kilmer had begun to develop a reputation. And not a good one.
A DIFFICULT ACTOR
Is Val Kilmer a difficult actor to work with? It depends on who you ask. Batman Forever director Joel Schumacher has not been pleasant when asked about Kilmer. He told the Hollywood Reporter, "Batman Forever, when we were on the world tour, it just really went to his head." Schumacher said. "I'm not going to get into that. He wanted to do Island of Doctor Moreau because Marlon Brando was going to be in it. So he dropped us at the eleventh hour."
Val Kilmer's director on his next movie, the aforementioned Island of Doctor Moreau, Richard Staney was also less than enthusiastic when mentioning Kilmer. "Val would arrive, and an argument would happen," Stanley told Entertainment Weekly. Stanley was replaced and he claimed it was because they wanted to keep Kilmer, who they thought would "bring in money." He also added about Kilmer, "He'd do [the lines] but he'd throw it all away," Stanely said. "And he kept insisting on odd bits and pieces of his wardrobe that didn't make sense, like a piece of blue material wrapped around his arm. It was like, 'Why is that around his arm, and will he take it off?'" Stanley was eventually replaced by director John Frankenheimer.
Even Val Kilmer himself admitted to The New York Times he has been difficult, "In an unflinching attempt to empower directors, actors and other collaborators to honor the truth and essence of each project, an attempt to breathe Suzukian life into a myriad of Hollywood moments, I had been deemed difficult and alienated the head of every major studio," he told the Times. "Everyone has to work out their own salvation. How to live and by what morality, and I found that the part that I feel bad about is hurting somebody in the process."
But not everyone has the same outlook on Val Kilmer. His Tombstone co-star Michael Biehn didn't have anything positive nor negative to say about Kilmer. He told the Hollywood Reporter, "People ask me what it's like to work with Val Kilmer. I don't know. Never met him. Never shook his hand. I know Doc Holliday, but I don't know [Kilmer]."
Director Irwin Winkler said he reached out to Robert De Niro and director Michael Mann (from Heat) to find out about Val Kilmer before he brought him on board for At First Sight and they had nothing but rave reviews for Val and his work ethic. Same with producer Jeffrey Katzenberg, who produced Kilmer in The Prince of Egypt. "Val was one of the first people cast in The Prince of Egypt. He was there every step of the way; patient, understanding, and phenomenally generous with his time."
VAL KILMER'S BATTLE WITH CANCER
Co-star and director troubles weren't all that Val Kilmer has had to deal with. He is also a cancer survivor. Back in 2015, Kilmer was taken to the hospital with what was reported as a possible tumor. Kilmer was quick to respond that no, it was not a tumor or even had tumor operations. It was two years later that Kilmer finally confessed that yes, he did have throat cancer and he had undergone a tracheotomy because of it.
The operation has left Kilmer with a raspy voice and shortness of breath. Talking is difficult for him but it isn't going to stop him from acting. Val Kilmer is set to appear in Top Gun: Maverick reprising his role as Iceman, nemesis to Tom Cruise's Maverick.
I'M YOUR HUCKLEBERRY – THE MEMOIR
Val Kilmer has finally let people in. Published earlier this year, I'm Your Huckleberry: A Memoir finds Kilmer as an author, giving the dirt on his life, his acting career, its highs and lows, and his sickness with cancer. It is a candid look at a difficult to judge actor and person, but one he doesn't shy away from. If you really want to try to understand Val Kilmer, find out who he is in his own words.
VAL – THE VAL KILMER DOCUMENTARY AND FUTURE WORK
Recently, Val Kilmer made waves once again throughout the movie world with the release of his documentary/ movie memoir Val. It essentially tells the story of the acclaimed actor's life through the personal video footage he shot over many decades. Apparently, for nearly the entirety of his professional and personal life, Kilmer had a camera in his hands. And he went about compiling the footage into a documentary following his battle with throat cancer. Val was a critical smash, scoring 93% on Rotten Tomatoes and garnering a considerable amount of praise not only for the unique storytelling but the beautiful and raw life it follows. Check out the trailer:
He is also set to reprise his role of Iceman when Top Gun: Maverick finally releases. It was important for Tom Cruise and company to bring Kilmer back into the mix for the movie, though as of this writing it isn't clear exactly how his story will unfold.
TOM "ICEMAN" KAZANSKY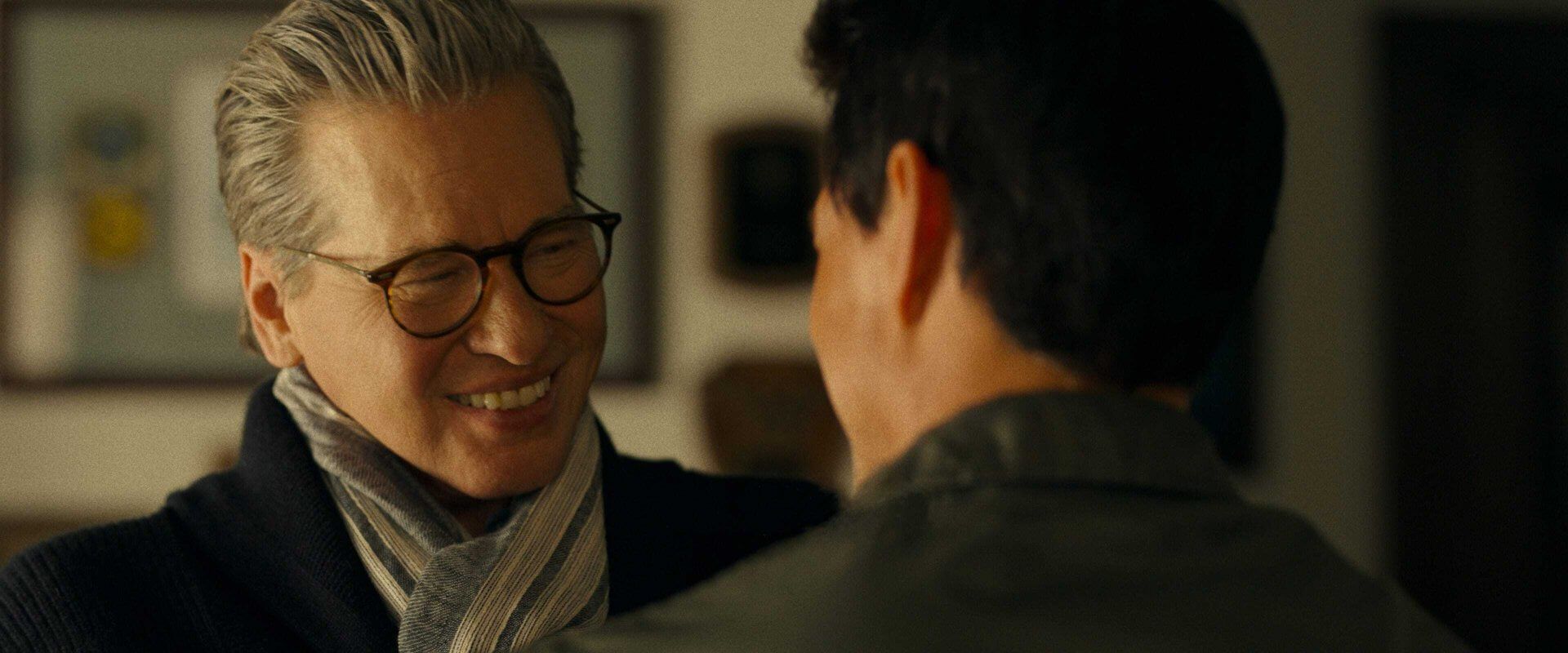 It was a poorly kept secret given the fact that the film was delayed for over two years. But the Iceman cometh. Or maybe "returneth" is a better word. We can thank Tom Cruise for making sure his long-time friend, Val Kilmer, played an important, if not extremely emotional, role in Top Gun: Maverick. To Cruise's credit, he wasn't having any part of a "no" when it came to bringing back Kilmer as Iceman. He felt it was necessary to the story, for he and Kilmer, and he proved to everyone he was right.
We won't give any other spoilers away if you have not yet seen the film (what are you waiting for?) other than be prepared. It will tug immensely at your heartstrings. It had the film's director, Joseph Kosinski claiming, for him, it was the highlight of making the movie. "To see how much respect they had for each other as actors, and to see a friendship that has evolved over 36 years — it really mirrored what you see onscreen in the scene," Kosinski said on The Hollywood Reporter's Behind the Screen podcast. "They are just two actors at the top of their game doing this really beautiful scene for the film that's so important. It was a very emotional day on set."
Because Kilmer has been dealing with throat cancer that included two tracheotomies and an electric voice box he needs to plug into his trachea, Kilmer's voice needed to be enhanced for the scene. "Val and Tom performed the scene, and then we enhanced Val's voice by blending it with another one, mostly for clarity, more than anything else," said Kosinski.
"IN A BIG WAY"
Val Kilmer is returning to one of his most popular roles when Disney+ premieres Willow. The new series will arrive on November 30, 2022, and promises to bring the same fun, adventure, and thrills the 1988 Ron Howard classic film gave fans. Most of you may remember that Kilmer was on board as Madmartigan in the original film that also starred Joanne Walley (she was Walley-Kilmer for a while there as the two were married for eight years). She is set to return as Sorsha, the warrior-turned-queen.
The new series had been long in discussion before Disney finally gave it the go-ahead. Warwick Davis returns as the title character and will see a new adventure that brings Sorsha into it as well as, somehow, Madmartigan. Details are very thin about the series, but it is said to tell the story of a princess (Sorsha and Madmartigan's daughter) who puts a group together in a quest to rescue the princess's twin brother.
While Warwick Davis's return as Willow made big headlines, it was Kilmer's return as Madmartigan that truly was the talk of the town. According to Willow's executive producer, Jonathan Kasdan, "Val's a huge part of this, and the first conversation I had, when Warwick and I got the greenlight to do this, was with Val," Kasdan said via Yahoo. "We wanted his character to be a part of the story. We wanted him to be in the show."
Kasdan continued, explaining the limitations the series had. "Because we were shooting during [the COVID-19 lockdowns], he wasn't able to come to Wales and shoot with us." The Kasdan concluded, "But he is in the show in a big way. And we're pretty excited about it. … Madmartigan lives on." Ruby Cruz joins the series as Kit, Sorsha and Madmartigan's daughter, saying of Kilmer, "He's part of the show in a very big way for my character."
Apparently, Top Gun: Maverick and Willow aren't all for Kilmer. He will also be starring in Riptide alongside Chace Crawford (The Boys) and Henry Thomas (E.T.). After that (yes, there is more Kilmer to be seen), he will star as Mark Twain in the film Mark Twain and Mary Baker Eddy.