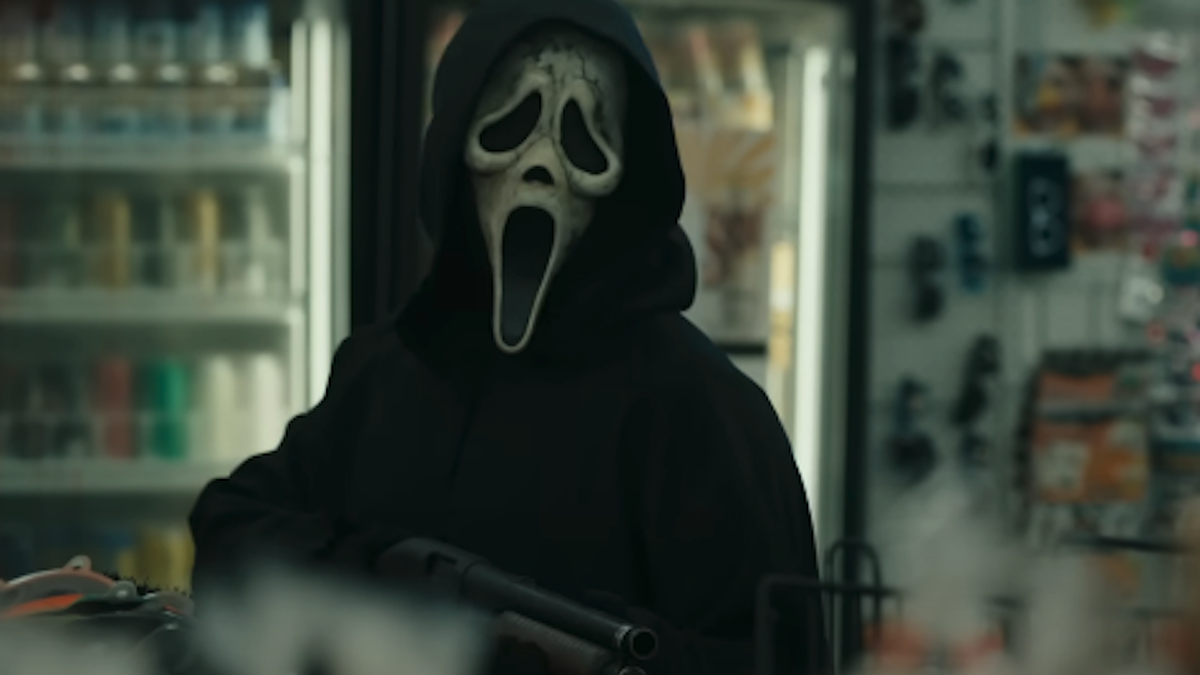 Among the most-anticipated upcoming horror movies on the horizon is Scream VI, which will bring the blood and mystery of Ghostface to New York City for the first time ever. When Paramount Pictures unveiled the latest trailer this week, fans couldn't get enough of the bone-chilling shots. However, one particular tease seemed to truly capture their attention: the sight of the masked icon taking hold of a shotgun. And unsurprisingly, franchise devotees are sharing their thoughts on the Internet.
The trailer opens with Melissa Barrera and Jenna Ortega's Sam and Tara Carpenter running panicked into a New York bodega to warn of Ghostface's imminent arrival. The masked killer ends up following them inside as they run to hide. After murdering a customer and the store clerk, the killer steals the latter's shotgun for his murderous tendencies. The tense sequence resulted in a variety of reactions from fans. This Twitter user felt it gives the villain an unfair advantage, saying this:
not one single survivor in scream 6 cuz why the hell does ghostface have a shotgun now pic.twitter.com/LSrjmqucxSJanuary 18, 2023
See more
The hooded assailant's weapon of choice has always been a knife but, throughout the years, the various killers in the Scream movies have used a few alternate tool to get their victims as well. While some people were shaking in their boots over this new tool, others found it amusing to see the imposing figure with a shotgun:
Ghostface with a shotgun is simultaneously the funniest and most raw thing ever pic.twitter.com/WqcDwXwCpuJanuary 18, 2023
See more
Scream has always been one of the more playful horror franchises, due in part to its masked murderer being scary but not as menacing as other icons of the genre who've wielded chainsaws or haunted people's dreams. So a shotgun is a more weighty choice in some ways. Another thing about Ghostface that sets the character apart from other slasher baddies is that a different person takes on the moniker with each new installment in the franchise. That element of the story always keeps fans guessing, and this scene adds to that intrigue. The following post has got to be the best reaction to the shotgun confrontation:
"Why is the new Ghostface using a shotgun?"Can you blame the man??? pic.twitter.com/a0XpGLaTCJJanuary 18, 2023
See more
This production follows last year's successful fifth flick, which was the first to be produced since director Wes Craven's passing. After that movie established the Carpenter sisters and their ties to the original film, this upcoming installment sees them moving to New York City to get away from Woodsboro. However, Ghostface follows them to the Big Apple. Due to pay disputes, Neve Campbell's Sidney Prescott will not be part of the Scream 6 cast and, now looking at the trailer, the character perhaps dodged a literal bullet, as one fan points out:
Sidney Prescott now that Ghostface has entered their shotgun era pic.twitter.com/7szJIiVz67January 19, 2023
See more
While the shotgun moment drew mixed reactions from fans, the trailer as a whole is undoubtedly getting people talking ahead of its release. What really has them hyped is that the movie will feature Courtney Cox's Gale Weathers and another franchise alum in the form of Hayden Panettiere's Kirby Reed, who last appeared in Scream 4. Some seem unsure about those two characters and the others going up against a killer who uses a firearm, but one fan has an argument for the naysayers:
I guess people are upset at Ghostface using a shotgun and that makes it not a slasher or some nonsense? Ghostface killed someone with a damn garage door. Settle down. pic.twitter.com/hrzT4tAgXtJanuary 20, 2023
See more
That's a fair point, to be honest. If anything, one would expect directors Matt Bettinelli-Olpin and Tyler Gillett to mostly remain true to the franchise's roots when it comes to Ghostface. The two are clearly passionate horror fans as evidenced by the fact that the trailer included a Friday the 13th reference that has fans theorizing as well. There's much to discuss and think about, and we'll see how things play out when Scream VI hits theaters on March 10.