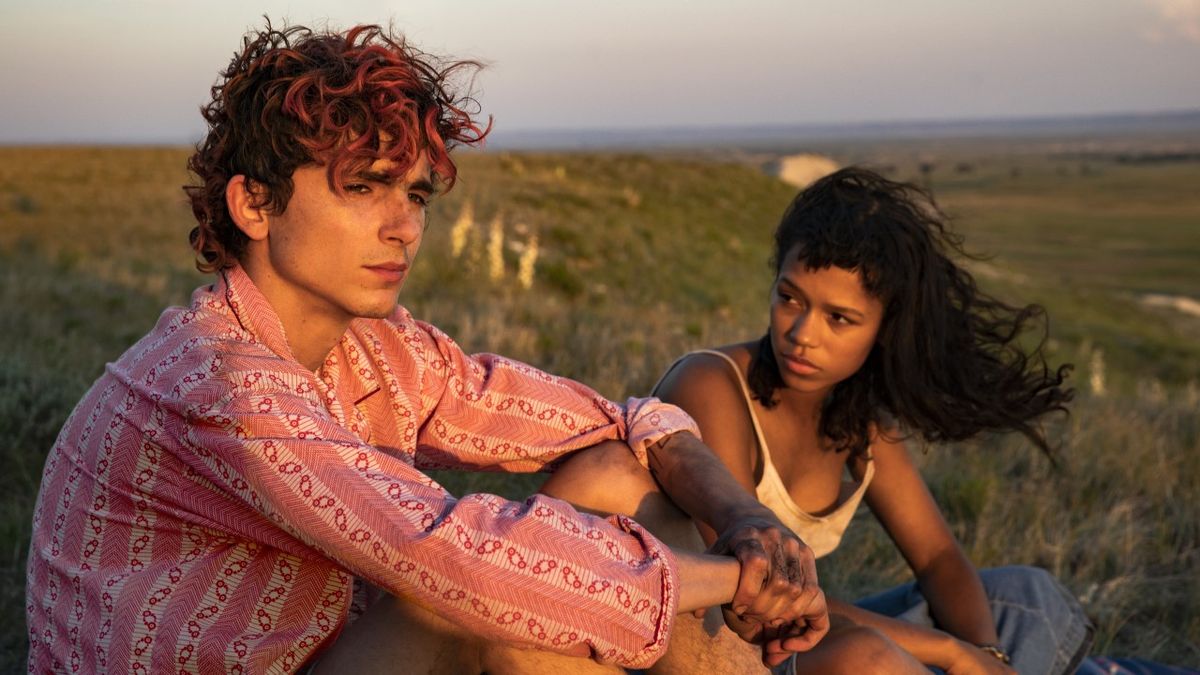 When it comes to the film industry, "coming-of-age romantic horror" isn't a genre that's overwhelming the market, especially when you throw cannibalism into the main plot. That's just one reason why anticipation is so high for Italian director Luca Guadagnino's newest project, Bones and All. Timothée Chalamet and Taylor Russell star as the cannibalistic lovers in the movie that's set to hit theaters on November 23 — just in time to get your appetite up for that big Thanksgiving dinner. The reviews are in, so let's see if Bones and All lives up to the bloody hype.
If the trailer is any indication, things are definitely going to get bloody for Timothée Chalamet's Lee, as the actor reteams with the director of Call Me By Your Name. Along with Taylor Russell as Maren, Bones and All also features Mark Rylance, Michael Stuhlbarg, André Holland and Chloë Sevigny. Let's get straight to the reviews. IndieWire's Leila Latif gives the movie a grade of A-, saying that Luca Guadagnino makes a star out of Russell in Bones and All, even if it does fall into the trappings of some coming-of-age cliches (as does the book it's based on). The critic says:
Aaron Neuwirth of We Live Entertainment gives it a User Rating of 8, saying the director is able to match its high concept with authentic performances, and any other additions to the arthouse horror genre would be welcomed by this critic:
Aramide A. Tinubu of Shadow and Act says there's no doubt that the gore in Bones and All is "genuinely horrific," but the film doesn't lean too much into the horror genre. In the critic's words:
Stephanie Zacharek of TIME magazine says the movie is never boring, and the true star is Taylor Russell, whose performance will stick with you after the lights come back up. The critic says:
Meagan Navarro of Bloody Disgusting rates Bones and All 4 skulls out of 5, enjoying the use of the road trip format to explore the "monstrous" need for survival and human connection. More from the review:
The movie has amassed an impressive 85% on Rotten Tomatoes from over 120 critics' reviews since its premiere at Venice International Film Festival, and audiences are about to get their chance to see all the cannibalistic fun on the big screen to judge for themselves. Bones and All will hit theaters on Wednesday, November 23. You can see what else is in store for the rest of this year with our 2022 Movie Release Schedule, and get a peek at what's coming in 2023.