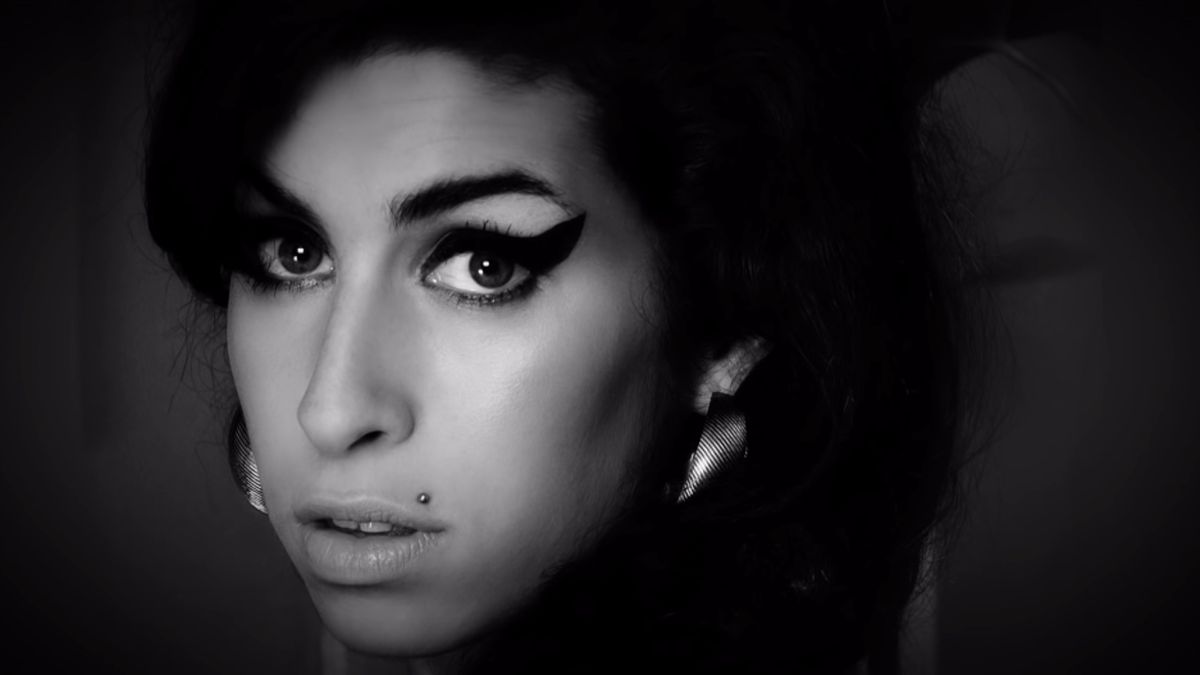 Biopics are a tried and true genre in the film industry, especially related to beloved figures from the music world. We've seen this in projects Walk the Line, I Wanna Dance With Somebody, and Baz Luhrmann's Elvis, and now there's a movie coming up all about late English pop star Amy Winehouse. Some set photos have recently leaked online, revealing English actress Marisa Abelala's look while filming as Winehouse in the movie, which is titled Back to Black. And the late actor's dad defended Abela for playing his daughter following online backlash.
When the set photos of Marisa Abela in full costume as Amy Winehouse started circulating online, there were a ton of negative comments, specifically from those who didn't think she looked anything like the "Valerie" singer. But Winehouse's father Mitch Winehouse spoke to TMZ about Back to Black, and actually stood behind the actress. He told the outlet that she's a great choice for the role, despite her physical differences from the singer. What's more, he says that plenty of actors have not looked like the real-life people they're portraying throughout film history. He's not wrong in that regard.
Mitch Winehouse's comments stand in stark juxtaposition to the sentiments about Back to Black on social media this week. He's the administrator of his late daughter's estate, and no doubt has been included in the development of the upcoming biopic. And he seems all too happy with Marisa Abela's acting chops, even though she doesn't actually look much like the iconic crooner.
Back to Black is directed by Sam Taylor-Johnson, whose previous credits include Fifty Shades of Grey and A Million Little Pieces. Actress Marisa Abela will be joined by Jack O'Connell (Trial By Fire), as Winehouse's ex-husband Blake Fielder-Civil. Meanwhile, Ray Donavan star Eddie Marsan will play Mitch Winehouse. Finally, Phantom Thread's Lesley Manville will play Winehouse's grandmother Cynthia. The movie's script was written by Matthew Greenhalgh, and will presumably cover her childhood to stardom and eventual death.
Aside from the set photos of Marisa Abela currently circulating online, backlash surrounding Back to Black seems to come from the fans who are fiercely protective of the late singer. Some of those fans don't want the tragedy of her death exploited. There are even some fans who don't approve of Mitch Winehouse and his continued involvement with her estate. Clearly there are some very strong feelings involved.
Musical biopics have been wildly successful over the last few years. Bohemian Rhapsody ended up becoming an Oscar winning megahit back in 2018, followed by the Elton John movie Rocketman. And as such, it seems like an Amy Winehouse movie was inevitable. A documentary was previously released about her life. But given how she tragically passed away at such a young age, it's a delicate matter that's sure to have plenty of critics.
Back to Black is filming and doesn't currently have a release date. In the meantime, check out the 2023 movie release dates to plan your next movie experience.